Lil' Orbits Mini Donuts...
the Fun Way to Make Money!

IF YOU'RE LOOKING FOR A FUN AND INTERESTING CAREER, A CHANCE TO BE YOUR OWN BOSS, DETERMINE YOUR OWN SCHEDULE AND CONTROL YOUR OWN DESTINY... YOU'VE COME TO THE RIGHT PLACE!
For over 45 years Lil Orbits has helped thousands of people get into their own business or grow their existing business. Our mini-donut and pancake & crepe machines are proven money-makers. Our equipment is proudly made in America and always will be. Lil' Orbits now operates profitably in over 100 countries around the globe. We can help you get started in business or help you expand your business and profit centers!
Fresh, Hot Lil Orbits Mini Donuts have always been a popular food item at carnivals, festivals, fairs, malls and many countless other venues. The Donut business is huge... and it continues to grow world-wide. Maybe its time you take a big bite of this industry and enjoy the benefits and profits yourself.
Let Lil' Orbits Helps You Turn Donuts Into Dollars!
For information on getting started with Lil' Orbits click Business Opportunities
or call (800) 228-8305 or (763) 559-7505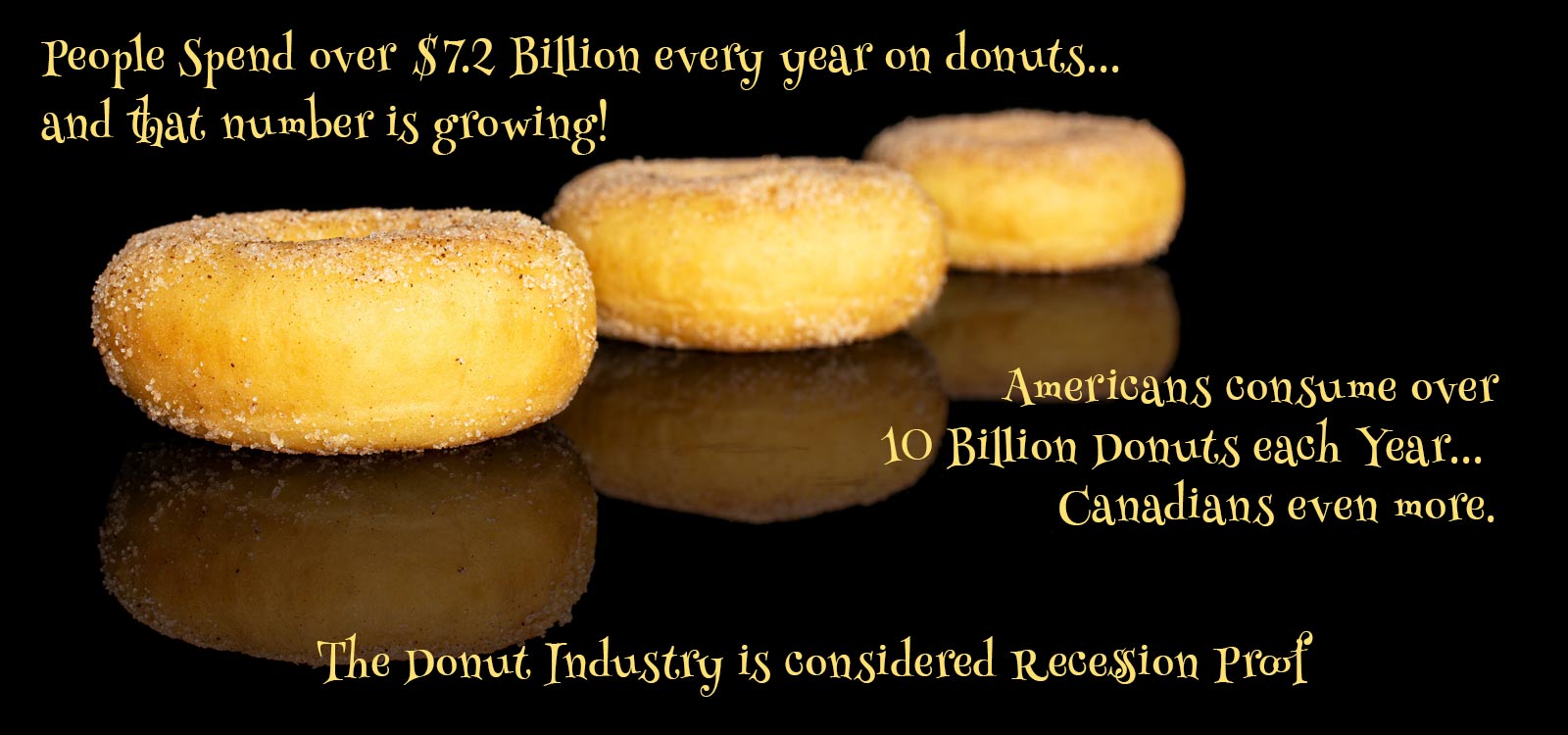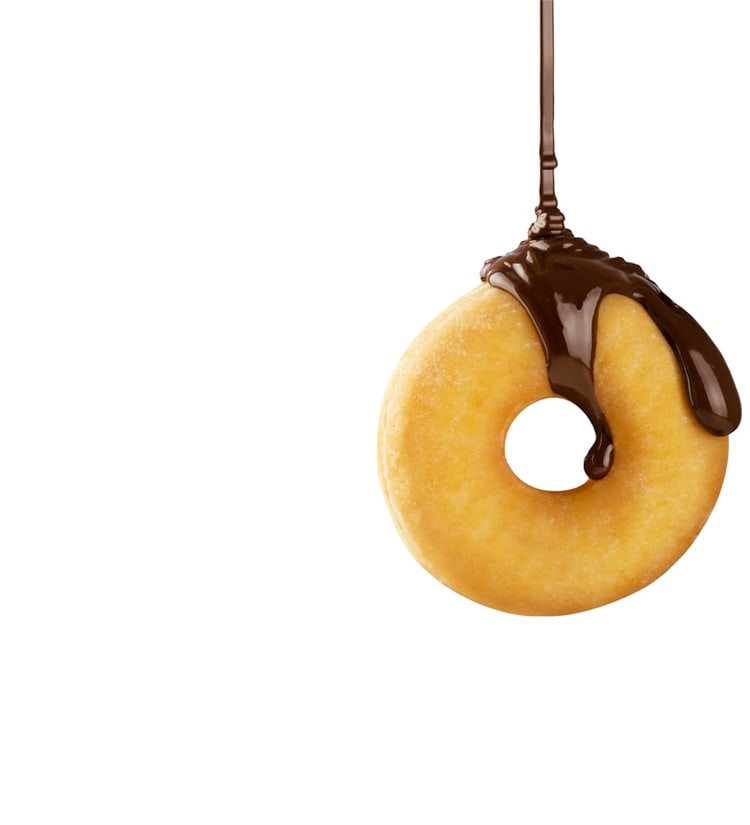 Our mini-donut machines are proven money-makers!
Made in America and now operated profitably in over 100 countries all around the globe. Fresh, Hot Mini-Donuts have always been a popular food item at carnivals, festivals, fairs and many other outdoor seasonal events. Our customers continually tell us how much fun it is to hear their customers reminisce about eating mini-donuts when they were kids.
We Turn Donuts Into Dollars!
click here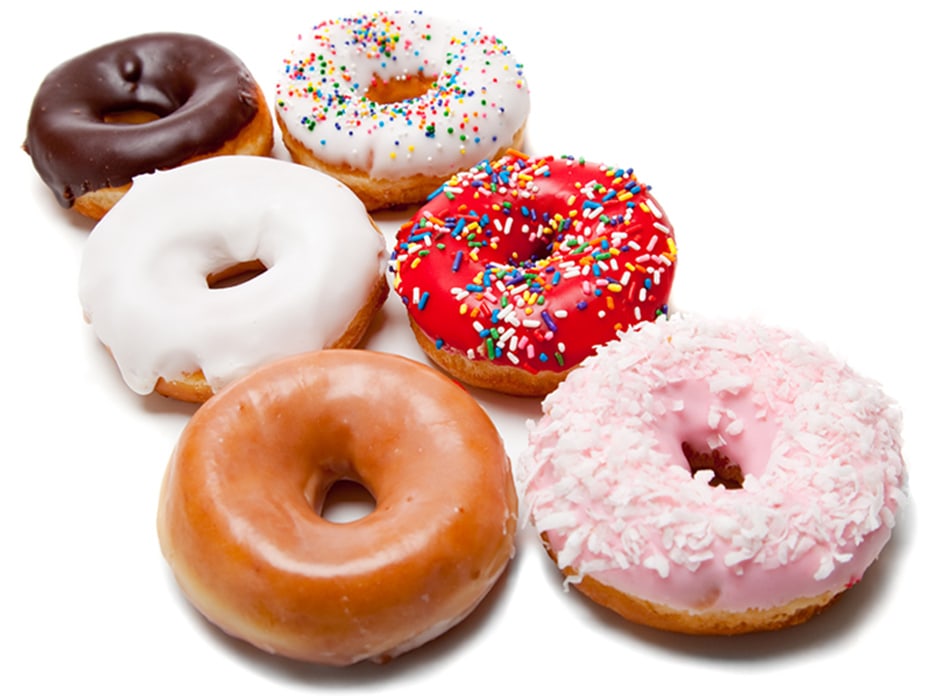 The Best Mini Donuts on... or off the Planet
Whether you prefer a small home based business selling from a portable doughnut trailer, or permanent donut machine in a food concession stand or store, we have the key to help you make it successful. Lil' Orbit machines are easy-to-operate, lightweight and portable. Plus, Lil' Orbit equipment is manufactured with pride in the heartland of the USA. What's more... our brand is known world-wide as the Best in Mini Donuts!
click here to see our lineup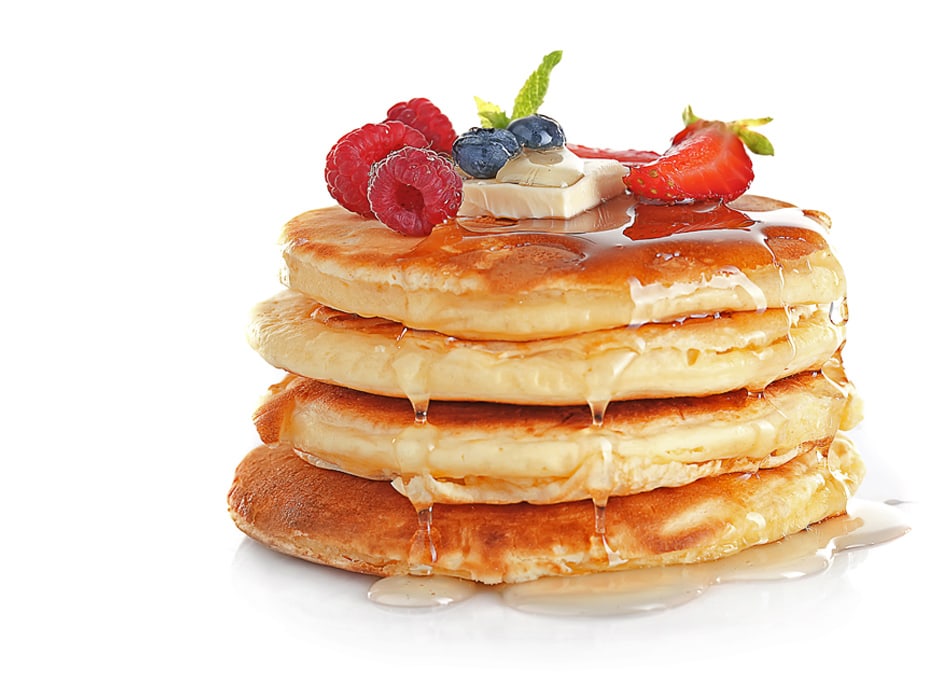 More Pancakes, Better Pancakes... More Profit
Eliminates the need to use fat, oil or grease in your cooking process. Now pancakes, crepes, french toast and omelets in a healthier, tastier process with our Pancake and Crepe Maker. See how you can offer your customers healthier choices, turn more product and of course make more profit!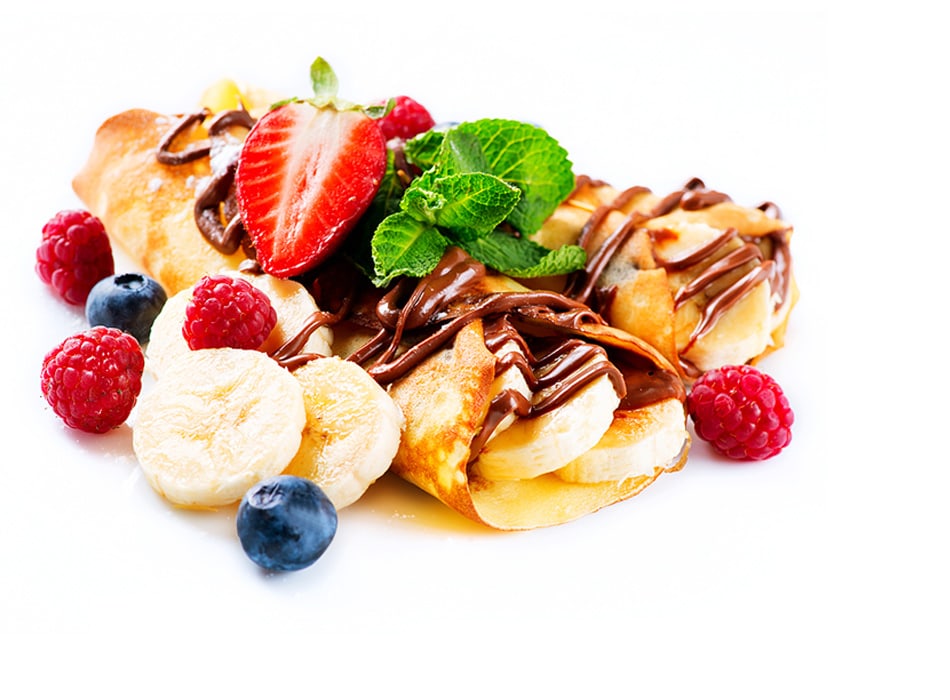 And Our Pancake Machine Does More Than Just Pancakes
Lil' Orbits Pancake Machine is exceptional as a pancake maker alone. However, it can also be used as a Crepe maker (which just happens to make amazing crepes) and delivers you an even better profit. Check out our versatile Pancake/Crepe Maker today!
MADE IN AMERICA... OUT OF THIS WORLD!
QUALITY • INTEGRITY • RELIABILITY
Lil' Orbits brand equipment is manufactured in the heartland of America- Minneapolis, Minnesota, USA. Always has been. Always will be. In fact, Lil' Orbits is the recipient of the US President's Award for merit in promoting exports around the world!
Our Lil' Orbits mini-donut machines are warranted for life to the original owner, as long as the original owner retains ownership and purchases Lil' Orbits mini-donut mix for use in his or her operation.
We are proud to say that while our equipment is
Made in America... and our Mini Donuts are
the Best in the World!
BUYERS BEWARE! IF IT DOESn'T HAVE THE Lil' ORBITS LOGO... It's Not FROM US!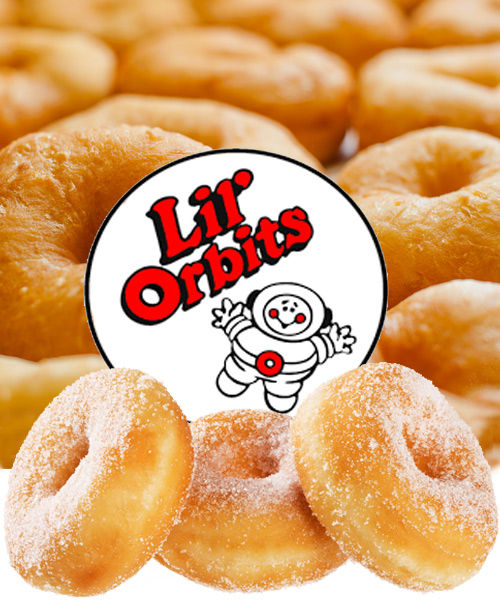 IMITATION MIGHT BE FLATTERY...
BUT PURCHASING A KNOCKOFF COULD BE YOUR WORST BUSINESS MISTAKE!
Mini-donut machines designed to look like Lil' Orbits mini-donut machines are being manufactured in China, India, and other countries. These machines are being offered to unsuspecting buyers here in the United States, often via the internet. These machines often arrive without an attached power supply, and upon inspection run the risk of costing a prospective buyer their ability to open their business.
Don't take the risk of spending thousands of dollars to import a machine that you might not even be able to operate.
While we cannot make this very important decision for you, we can assist by giving you all the information you need to be properly informed. Please, feel free to call us with any and all questions you might have concerning our equipment or our knowledge of foreign made machines.
1.800.228.8305 or email us CustomerService@LilOrbits.com

Lil' Orbits... Products
Equipment & Accessories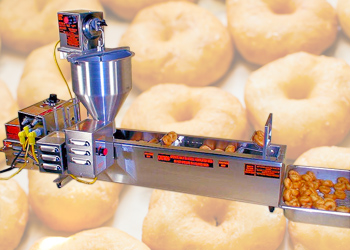 MINI DONUT MACHINES
ELECTRIC MACHINES
Model 800 Mini Donut Machine
SS1200 Mini Donut Machine
SS2400 Mini Donut Machine
GAS MACHINES
SS1200-GII Mini Donut Machine
SS2400-GII Mini Donut Machine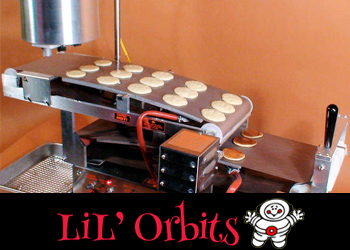 PANCAKE/CREPE MACHINES
UNIMATIC II MACHINES
Pancake/Crepe Machine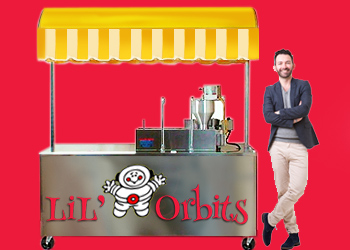 CARTS & CABINETS
CE-Series Mobile Cabinets
CE-Series Show Model
CE-Series Cabinets
AFS-Series Advanced Filtration Cabinets
AFS-Series Cabinets
FSC-Series Vendor Carts
FSC-10 Vendor Cart
FSC-Series Advanced Filtration
Custom Carts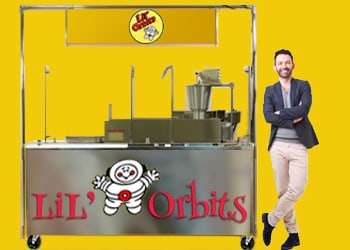 LIL' ORBITS PACKAGES
Pkg #1 Advanced Filtration
Pkg #2 Crowd Pleaser
Pkg #3 Gas-Fired Machine
Pkg #4 High Production Gas-Fired Machine
Pkg #5 Super Producer
Pkg #6 Vendor Cart
Pkg #7 Starter Package
Pkg #8 The Mini-Express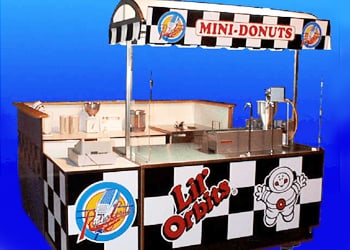 CUSTOM CARTS & CABINETS
WE CUSTOMIZE THEM TO FIT YOU!
Custom Carts & Custom Cabinets
Custom FSC Series Vendor Carts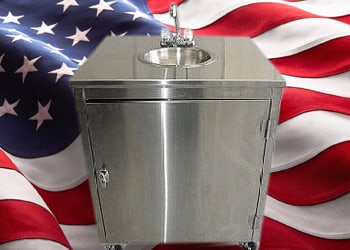 SELF-CONTAINED SINKS
SM200 Handwash Sink
SM400 4 - Compartment Sink
Need A Little Inspiration?
Check Out Our Donut Gallery!
DONUTS AS UNIQUE AS YOUR CUSTOMERS

Meet the Lil' Orbits Team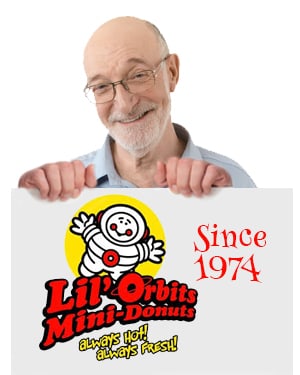 Ed Anderson
Founder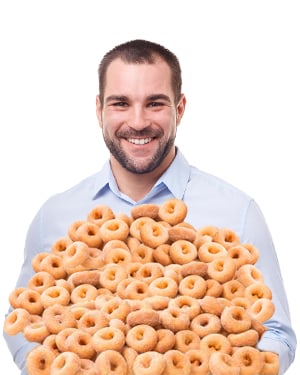 Charlie Anderson
President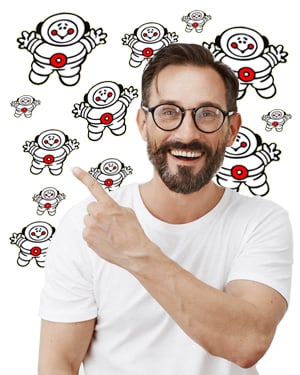 Brian O'Gara
Vice President
Team Member Since 1993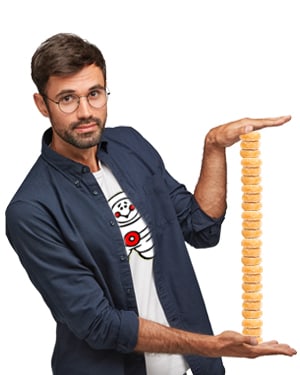 Scott "Mac" MacRea
Director - International Accounts
Team Member Since 1995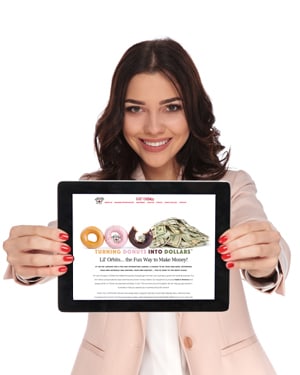 Jessica Anderson
IT, Webmaster, DB Manager
Team Member Since 1996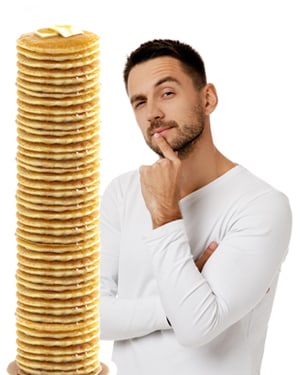 Terry O'Gara
Service/Production Manager
Team Member Since 1995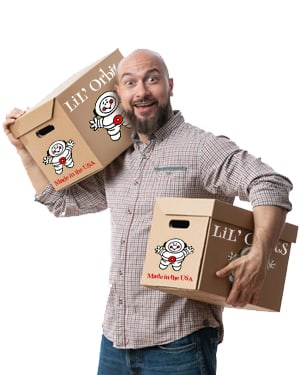 John Anderson
Shipping
Team Member Since 2008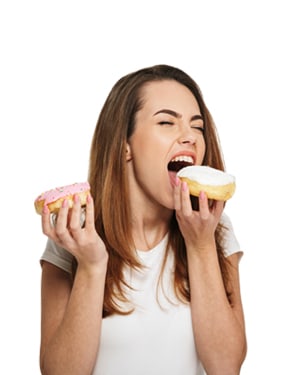 Bonnie Eveland
Senior Sales Executive
Team Member Since 2002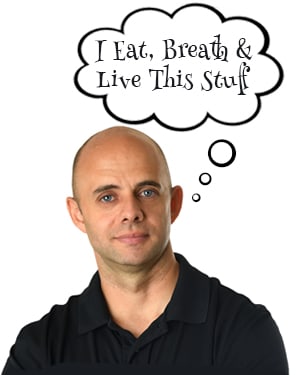 Tom Miskowiec
Service/Production Technician
Team Member Since 2000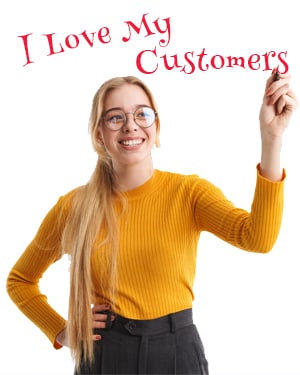 Teresa Seaberg
Customer Service
Team Member Since 2016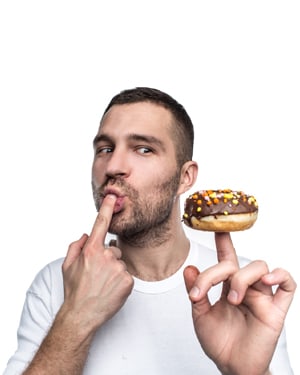 Nick Zaccardi
Production Technician
Team Member Since 2019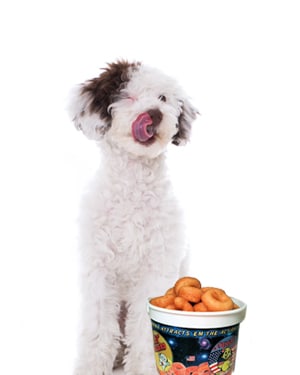 Riley
Goldendoodle - Mascot
Team Member Since 2013

The Lil' Orbits Business Opportunity... the Sky is No Limit!
Whether you want to supplement your current income with a fun, part-time money making opportunity or become financially independent, we have equipment and supplies packages to get you started. When you contact Lil' Orbits, you will receive the guidance of one of our experienced Business Advisors who can help you decide on what equipment would be best suited for your needs. They'll explain how to go about choosing a location, plan events and start your very own home based business. Our advisors know the concession business inside and out and are prepared to answer every question you have. They can give you insider tips and advice at every step along the way. And it doesn't stop with the sale -- buying into the Lil' Orbits business opportunity brings you into our family of operators all over the world; people just like you who have information and money-making ideas to share.
Why Invest in Lil' Orbits Mini Donuts
Action Attraction... How Our Mini Donuts Sell Themselves
Profitability. See the Numbers Youself!
Let Lil' Orbits Helps You Turn Donuts Into Dollars!
For information on getting started with Lil' Orbits click Business Opportunities
or call (800) 228-8305 or (763) 559-7505