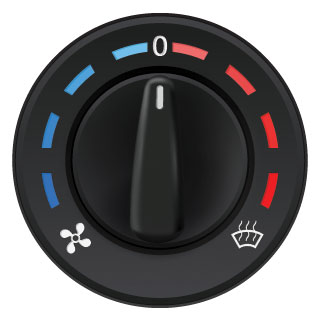 Air Conditioning & Heating Diagnostics Control
AIR CONDITIONING DIAGNOSTICS
A vehicle's air conditioning does a couple of things. Air conditioning obviously keeps you cool and comfortable, plus it purifies, the air that you breath while circulating. This feature helps drivers be less tired while driving. These features are important your comfort and for your safety. If your air conditioning system is not operating properly it could have more effect than just keeping you comfortable. That's where Rick's 66 comes in for auto conditioning and diagnostics. It's a good idea to have a quick and inexpensive AC Diagnostics run on your vehicle. Rick's 66 has the equipment and the personnel to analyze it efficiently and inexpensively.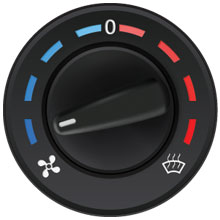 AIR CONDITIONING SERVICE & REPAIR
If you find that your air cooling system seems noisy or is not cooling your vehicle cabin as you think it should. if it starts blowing out warm air or air that has an oder, then you should certainly consider an AC inspection. If your AC has issues Rick's 66 experienced technicians can identify any issues including the main reason for an AC malfunction and repair it quickly and efficiently and for a reasonable price (as always). At Rick's 66 we understand AC issues and our experienced Team will have it repaired in no time. If you have an AC issue call Rick's 66 and we'll get your air back the way it should be.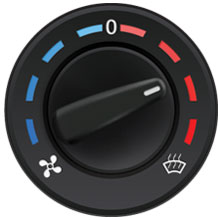 HEATING DIAGNOSTICS & SERVICE
When is comes to Heating Diagnostics and Service for you vehicle, the same applies as AC Diagnostics and Service. Our skilled technicians understand your entire comfort control system. We know how to analyze it, figure out where issues are at and fix it accordingly. Whatever issues you may have with your heating system or with any aspect of your vehicle's Climate Control System, Rick's 66 can help. Call us for diagnostics and for quick look and if necessary an affordable repair!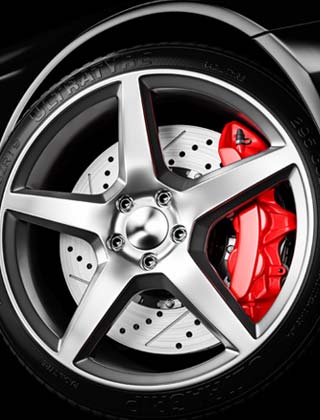 Brake Inspections And Brake Service & Repair
BRAKE INSPECTIONS
For the most part there is nothing more significant than your brakes when it comes to safety. That's why Brake Inspections are so important. Having a trained staff of automotive professional inspect your brakes and braking system could be crucial to ensuring your car is safe to drive. If your safety or the safety of the ones you care about most is important to you then you should certainly consider a brake inspection by the trained technicians at Rick's 66. This type of inspection can help them diagnose any potential issues with your vehicle's braking system and helps to ensure that your brake pads or brake shoes are operating properly, they can make adjustments to your brakes calipers and wheel cylinders, replace bad or old brake fluid, check the braking lines and hoses that might be damaged by age, whether or general wear and tear. Be safe… not sorry and have the qualified technicians from Rick's 66 keep you that way.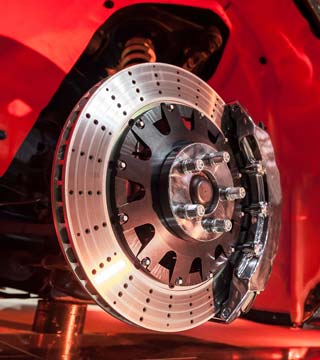 BRAKE SERVICE & BRAKE REPAIR
Always ensure that your brakes are in top working order. The brakes are one part of your car not to be ignored. If your brakes are squeaking or squealing, or if they grind or you vehicle pulls to one side or another when you push on the brake pedal, there is an issue which needs to be attended to immediately. These are serious warning signs and they will only get worse, quickly… and the result could be serious. That is why you need to get to a qualified auto service center that has the experience to deal with brake issues. At Rick's 66 they have found that in many instances, these warning signs result in simple brake system fixes. You may have worn brake pads, a malfunctioning calipers or low brake fluid. There may be excess air in the brake lines. These are all simple and relatively inexpensive brake services. Regardless, a faulty brake system is nothing to mess with, so at the first sign of issues with your brakes, contact Rick's 66 Service Center and drive with confidence. You can stop in or schedule an inspection.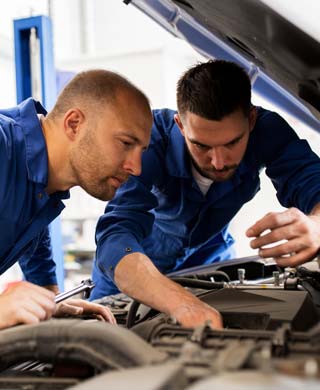 Engine & Transmission Service & Repair
ENGINE & TRANSMISSION ISSUES
Engine and transmission services can often be the most difficult or complicated aspect of vehicle services and repairs. However, do not let other auto mechanics try to convince you that you need costly repairs unless you know and trust them. At Rick's 66 we do thorough diagnostics to understand what is really wrong with your vehicle. We want you to have the facts and only the facts so that you can make a good decision, especially when it comes to your vehicle's engine or transmission. At Rick's 66 we also inform you of exactly what it will take to repair it as well as our very best estimate of how much it will cost. When it comes to major repairs such as engine repair or transmission service, we tell you exactly like it is and then take care of you and your vehicle the right way. If you have engine trouble or transmission issues call Rick's 66 and schedule a time to check out your vehicle.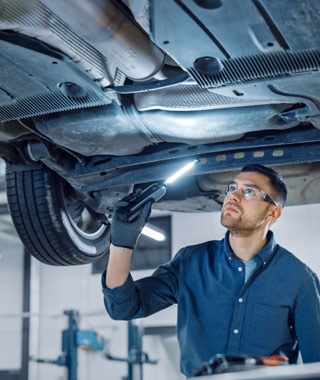 Mufflers & Exhaust System Inspections And Service
EXHAUST SYSTEM INSPECTION
A vehicle's Exhaust System controls its emissions. This is significant to the health of the environment as it is to your health and safety. Exhaust system leaks can be extremely dangerous. When there is an exhaust system leak carbon monoxide can make its way into your vehicle's cabin, which can affect your judgment while driving. Furthermore, if that happens the carbon monoxide can be deadly if you breath in enough of it. It also affects your vehicles ability to run at high performance. These are a few of the most important reasons that you should keep your muffler and exhaust systems in top shape. The staff at Rick's 66 can help you do that. All you need to do is schedule an appointment to have an inspection of your muffler and exhaust systems by our qualified experts. They're quick and affordable!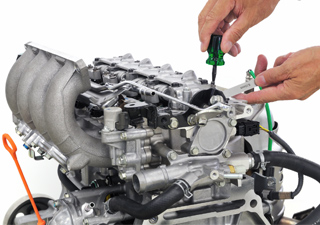 MANIFOLD REPAIR AND REPLACEMENT
A manifold replacement can be necessary if a fair amount of the manifold is corroded. You may hear a clicking noise from under your vehicle which could be an indicator that your manifold (or another pat of your exhaust system) has worked its way loose and now needs attention. If your vehicle hesitates when you accelerates it could also be a manifold issue. The best way to find out is to have the Rick's 66 Team do a quick inspection and check the the manifold and your vehicle's exhaust system in general. This is one of those times that a little investigation could prevent costly repairs later down the road! Call us today if you are having these types of issues with your vehicle.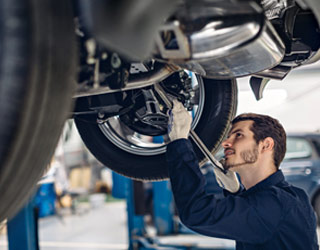 DOWNPIPE REPLACEMENT
When components of the exhaust system start to wear out they should be replaced or repaired as soon as possible. This is especially true of the downpipe on your vehicle. In most cases the replacement downpipes on vehicles are almost always better than the originals downpipes themselves. Aftermarket downpipes can substantially reduce restrictions on your vehicle's exhaust system. In addition, they can increase engine horsepower. Yes you read it right, a new downpipe can increase your engine's horsepower. So if you are looking for more efficiency and engine performance of your vehicle now might be the best time to contact the us here at Rick's 66 to see how we may help get your car running better than ever!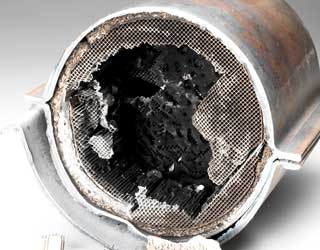 CATALYTIC CONVERTER REPAIR & REPLACEMENT
Your vehicle's catalytic converter help minimize the harmful effects of carbon monoxide, hydrocarbons, and nitrogen oxide produced by your engine. This is another component of your vehicle that helps the environment cleaner and keeps you healthier. Rick's customers have found that regularly scheduled exhaust system inspections and maintenance keeps their vehicles (including their catalytic converters) in top operating conditions. If you find that you have a clogged (or damaged catalytic converter, it needs to be repaired or replaced immediately. This is one more area that the Rick's 66 team can help keep you and your vehicle in top shape. Schedule an inspection with us today and let us help you be safer and healthier.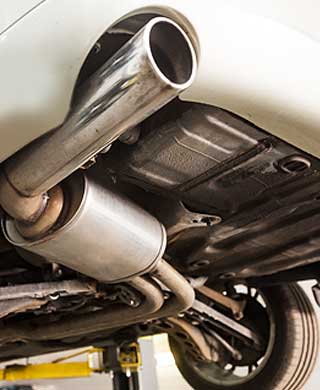 MUFFLER REPAIR & REPLACEMENT
Your muffler reduces the noise of your vehicle's engine. In addition it reduces engine emissions from escaping into the environment. Mufflers also prevent those emissions from entering your vehicle's cabin. Unfortunately, after time, mufflers rust or vibrate loose from their clamps. This can cause your vehicle to become loud and inefficient (which can also lead to decreased fuel efficiency). Vehicle owners should have regular muffler inspections performed so that any minor issue doesn't turn into a major exhaust issue. If you notice signs of muffler issues, vibration from under your vehicle, smoke from your vehicle's exhaust pipes or strong odors, its time to have your vehicle inspected. At Rick's 66 we always welcome new (and of course existing) customers. Our goal is to keep your car, truck or SUV running as safely and efficiently as possible. Feel free to check us out. Call Rick's today to schedule an appointment - 574.277.5035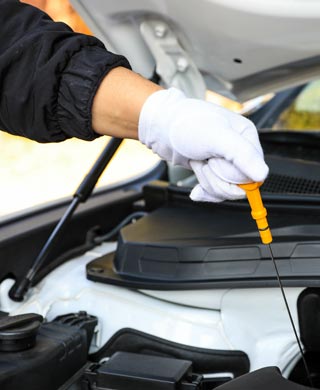 Oil Changes & Lubrication Service
OIL CHANGES / LUBRICATION SERVICE
Just like you, your engine needs good nutrition to keep it operating a peak efficiency. Not only does it need the right engine fuel (which you can always find at Rick's 66) but you also need fresh motor oil to keep your vehicle operating at the highest performance. You need to change your oil on a regular basis because the old oil eventually gets dirty and breaks down which can do serious harm to your vehicle's engine. At Rick's 66 our well-trained staff makes it simple to keep your vehicle in shape. When you schedule your oil change at Rick's our techs drain your old oil and replace it with fresh oil. Then they change your oil filter. The Rick's Auto Service Team also lubricates the chassis and the internal framework keeping your auto running as safe and efficient as possible. Call Rick's at 574.277.5035 to schedule an appointment.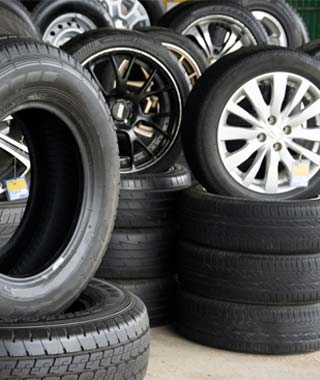 Tire Sales, Tire Installation & Tire Repair Service
TIRE SALES & TIRE INSTALLATION
If you're in the market for new tires Rick's should be your first choice. At Rick's 66, not only are we locally owned and operated, which means we have roots in Michiana but when you purchasing locally your money stays in Michiana. Plus Rick himself has always taken pride intaking care of friends, family, neighbors and those who make up the Michiana community which he feels holds his company accountable for doing that "right Thing". Obviously, the large, franchises don't have that attitude. Although Rick's 66 is a local firm we still have the ability to provide large selections of tires, several top brands, all sizes and exactly what you need for your vehicle. Add all of that to the fact that we have experienced tire professionals that have worked in the industry servicing new tire buyers for many years. If you need new tires, Rick's 66 is the place to go!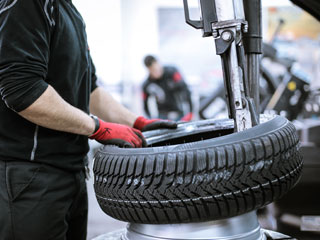 TIRE REPAIR & SERVICE
If you find you have a flat tire or your tire is quickly losing air… or always losing air you need to visit a professional that can assess the situation and see if it can be fixed or if it needs to be replaced. At Rick's 66 we always check first to see if a damaged tire can be safely repaired instead of replaced. We have been around a long, long time and we know that a well patched or plugged tire can add several thousands of additional miles to your damaged tire, that is if it is patched and plugged properly by trained professionals... and someone that has your best interest in mind. If your vehicle has a punctured tire, our staff will patch, plug and or seal the damaged area so it is efficient and safe to drive. We also know that if your tire is losing air around the valve stem or if the tire is not securely attached to the wheel we can repair it to like-new condition for a fraction of the price of new tires. This is the attitude that we at Rick's 66 maintain every single day. If you have a flat, or need tire repair or tire service, call the pros at Rick's 66, our goal is always to help you!
574.277.5035
Menu of Rick's 66 Services
Online Appointments
Air Conditioning
Heating (Climate Control) Service
Automatic Transmission Service
Battery & Charging
System Belts & Hoses Inspection & Replacement
Brake Service & Brake Replacement
Cooling/Radiator Services
Clutch / Driveline Service & Repair
Diesel Engine & Gas Engine Diagnostics
Electrical Service Engine Diagnostics - Gas & Diesel
Engine Overhaul/Replace
Engine Repair- Minor Engine Service & Repair
Exhaust System Service & Repair
Hybrid Powertrain Service
Lube, Oil & Filter Service
Manual Transmissions & Transfer Cases
Muffler & Exhaust Service, Repair & Replacement
Preventive Maintenance
Steering and Suspension - Service & Repair
Tire Rotation, Tire Repair & New Tires
Wheel Alignment & Wheel Service
State/Province Emission Inspection State/Province Safety Inspection
Please call us if there are other Auto Related Services that are not on this menu
574.277.5035